Image, Phenomenon, and Imagination in the Phenomenology of Religious Experience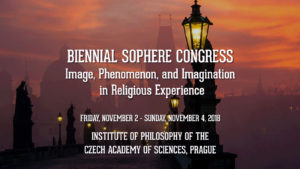 Dates: November 2, Friday, to November 4, Sunday, 2018
Hosted by the Institute of Philosophy of the Academy of Sciences of the Czech Republic, and the Faculty of Humanities, Charles University
Venue: Prague, Narodni 3, the Czech Academy of Sciences (main building)
Keynote speakers:
Hans Rainer Sepp, Charles University, Prague
Michael J. Shapiro, University of Hawaii at Manoa
Angela Ales Bello, Pontificia Università Lateranense and  the Centro Italiano di Ricerche  Fenomenologiche,  Rome, Italy
Presidential address:
Olga Louchakova-Schwartz, Jesuit School of Theology and UC Davis, USA
Conference director:
Martin Nitsche, Czech Academy of Sciences, Prague
The 1st Biennial Congress of the Society for the Phenomenology of Religious Experience invites submission of research papers dedicated to the phenomenologically determined themes of imagination, image-consciousness, appearance and the non-apparent, phenomenological ontology, and genetic phenomenology, with regard to religious experience. We further invite innovative philosophical and theological reflections on image, imagination, and creativity in religious experiencing, as well as reflections on a reverse problem of how religious experience contributes to the above mentioned faculties examined in the psychological horizon.
Full Call for Abstracts is available here
Propositions have to be written in English.
Please submit an abstract of approximately 250 words. To be considered all presentation proposals should be anonymized and must include a cover sheet with name, paper title, affiliation, five key words, and full contact information including email.
Session proposals must include abstracts of at least three presentations, a clear title of the session, a name of its chair, and a short description of the session.
Abstracts should be sent to: conferenceprague@sophere.org
Deadline for submitting presentation proposals: June 10 2018
Deadline for submitting session proposals: June 3 2018
Notification of acceptance: until June 30 2018
Selected papers from the conference will be invited for publication in the topical issue of Open Theology, De Gruyter, "Phenomenology of Religious Experience III", planned for 2019.