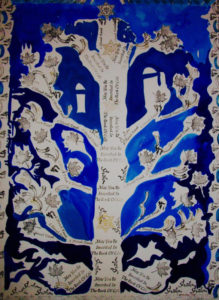 Society for Phenomenology of Religious Experience (SOPHERE) is a 501(c)(3) tax-exempt corporation focused on phenomenological research of religious and spiritual experience. While our approach is grounded in the work of Husserl, Heidegger, Herring,  Wahl,  Marion, Merleau-Ponty, Stein, Fink, Henry, Levinas, Scheler, Schutz, and other early and contemporary phenomenological philosophers, we also welcome broadly interdisciplinary reflection.
SOPHERE also supports publications and educational projects in phenomenological philosophy and method, clinical and applied research, and conferences.  It serves the world community by advancing knowledge in the phenomenology of religious experiencing, including different cultural traditions. It addresses the phenomenology of religious experience in its various aspects, historical, theological, sociological, philosophical, psychological, and other.  SOPHERE  does not present the views of any particular theological school nor of a particular religious organization but draws upon the broad spectrum of phenomenological approaches.  The task of the Society is to clarify religious experience, to seek to understand its significance for individuals, groups, and societies, and to explore its epistemological and ontological implications. It invites intellectual contributions by researchers who represent different religious views, and authors who research both older and newer religious movements.  The Society also seeks to provide researchers, pastors and other interested persons with the fruits of academic studies."
Conference Abstracts Calls
Next year (2024) SoPheRe conference will be on May 28. 29. and 30, at Duquesne University in Pittsburgh, Pennsylvania, hosted by the Simon Silverman Phenomenology Center. The title of the conference is Ritual, Revelation, and the Body: Phenomenology of Religious Community. Confirmed keynote speakers are Michael Barber,  Felix O'Murchadha,  and Crina Gshwandtner.  CFP will be posted in the Fall 2023. 
Publishing Opportunities
Submit a proposal to our new series Phenomenologies of Religious Experience, https://rowman.com/Action/SERIES/_/LEXPRE
Support Us! All donations are tax-deductible.